Our Common Home
Cursor, Mobile Flashlight,
2023

The Great Northern Festival

2022

Dubai World Expo 2020

2021

Quartier des Spectacles
At a time we're feeling the repercussions of the global environmental crisis more than ever before, OUR COMMON HOME fuses art and interaction technology to send a message about the urgency of climate action.
Over a four-chapter journey, this large-scale public art exhibition uses artificial intelligence and computer vision to precisely track the movement and behaviour of people engaging with large interactive displays. Whether tracking their faces, their bodies, their hands, or the flashlights of their mobile phones, the overarching metaphor is one: our individual decisions have a global impact.
This project has been made possible by The Government of Canada, Canada FMC and Quartier des Spectacles Montréal.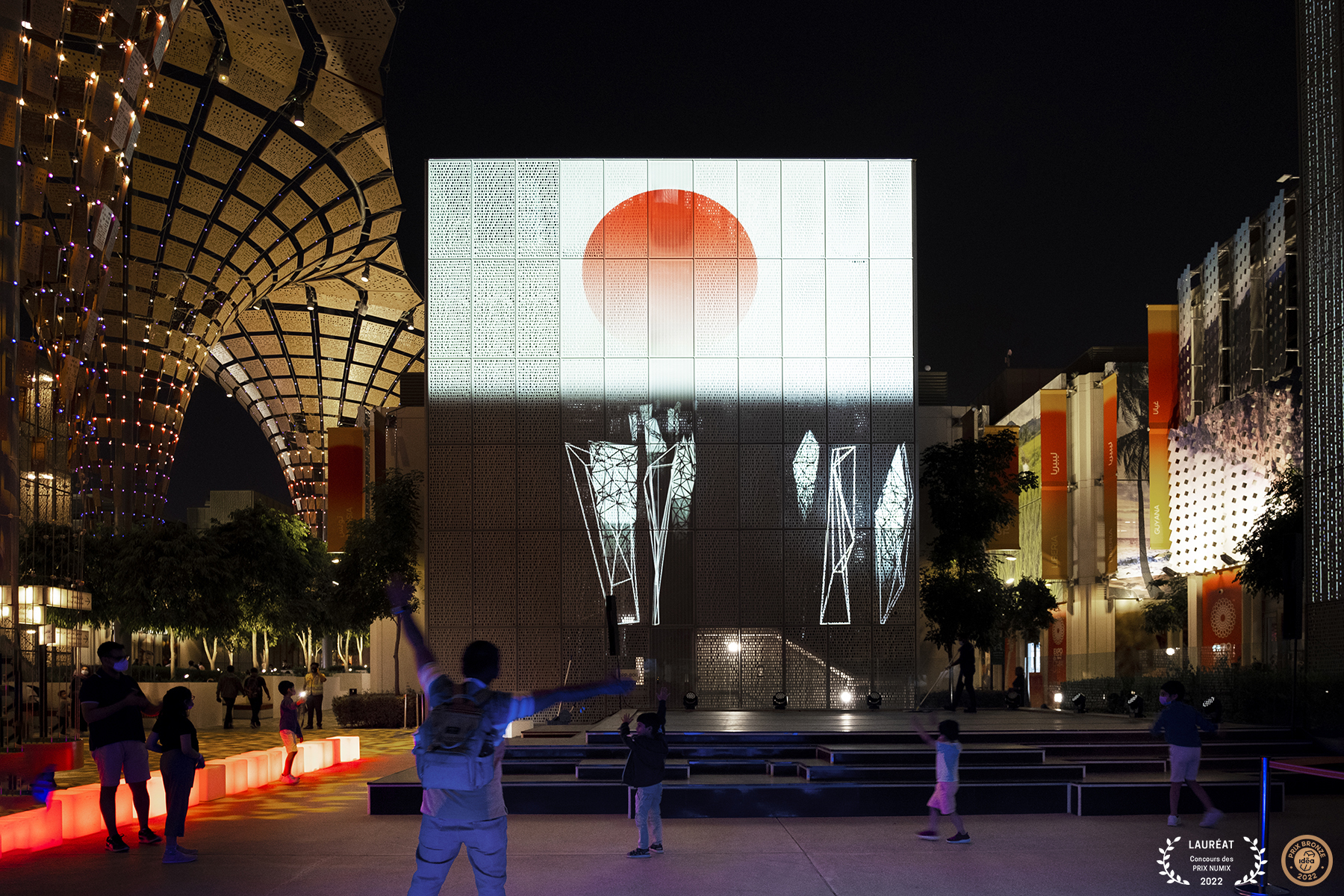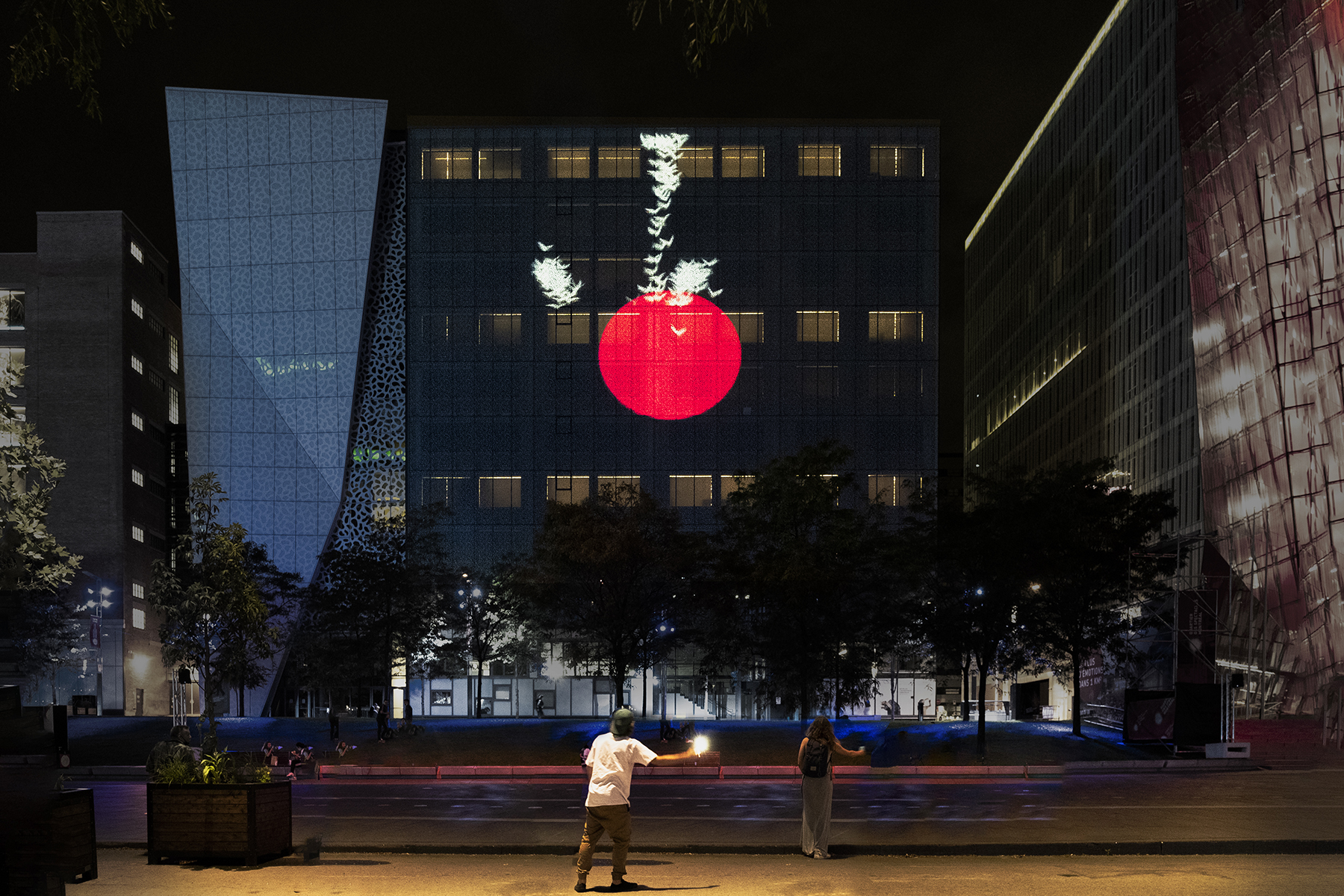 Chapter 1: CREATURES
CREATURES is a metaphor for general human interference in the animal kingdom. Highlighting the often hostile character of the human/animal relationship, this chapter also reminds us of the wonders of nature and how it is ultimately more powerful than humanity in its ongoing unhealthy battle for total control over all life-forms.
To participate, move your hands around: you will be able to create and interact with birds, fish and locusts appearing on the façade or the monolith.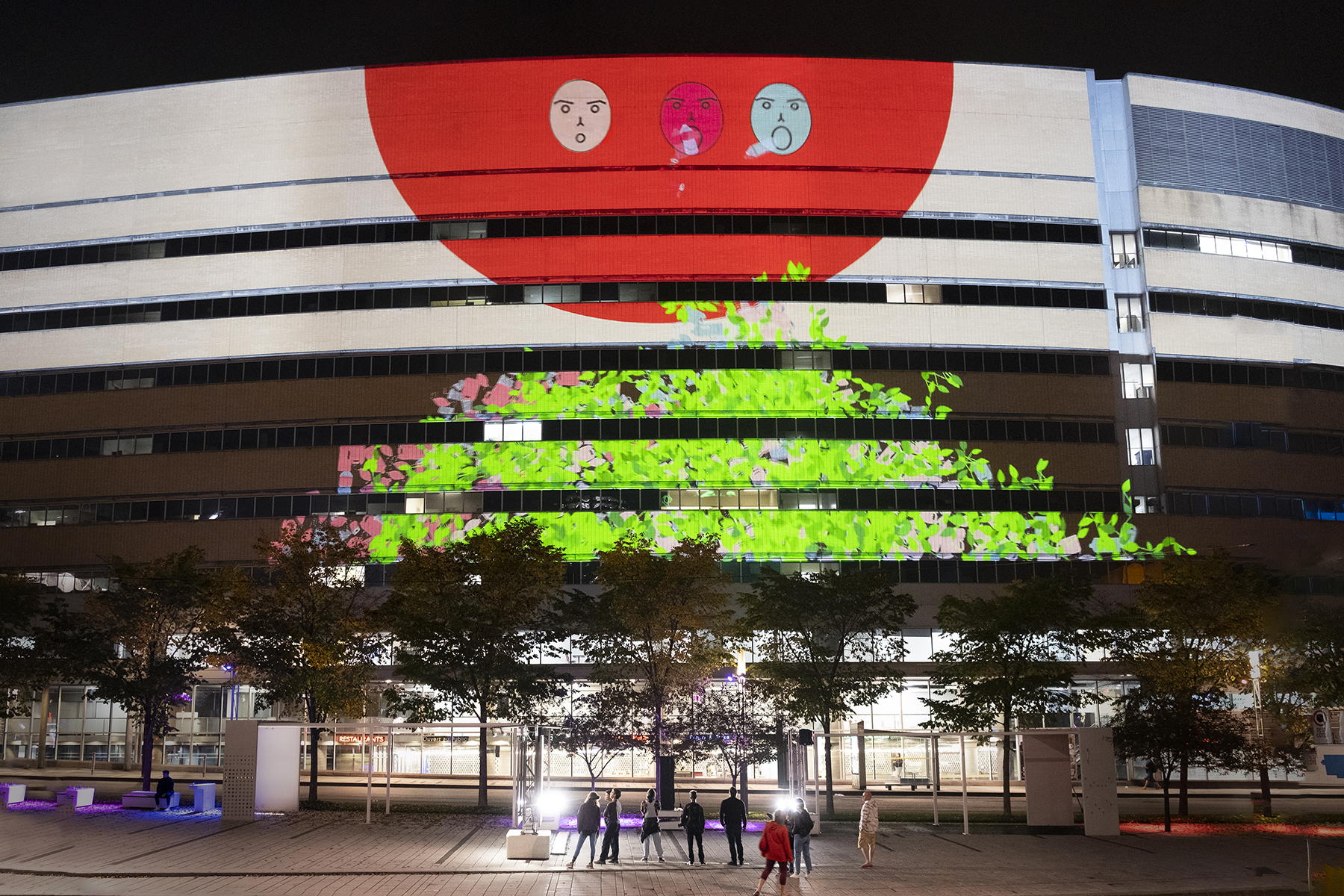 Chapter: PRODUCTS
PRODUCTS is about consumerism and the amount of waste we generate. A face tracking system detects your facial features that will then control a character on the display.
To participate, look straight ahead and open your mouth: the more you keep it open, the more trash will "come out", generating piles of wasteful products that will accumulate in front of you. As you close it afterwards, nature's resilience takes center stage as plants start growing through the piles, slowly invading the whole space and taking over.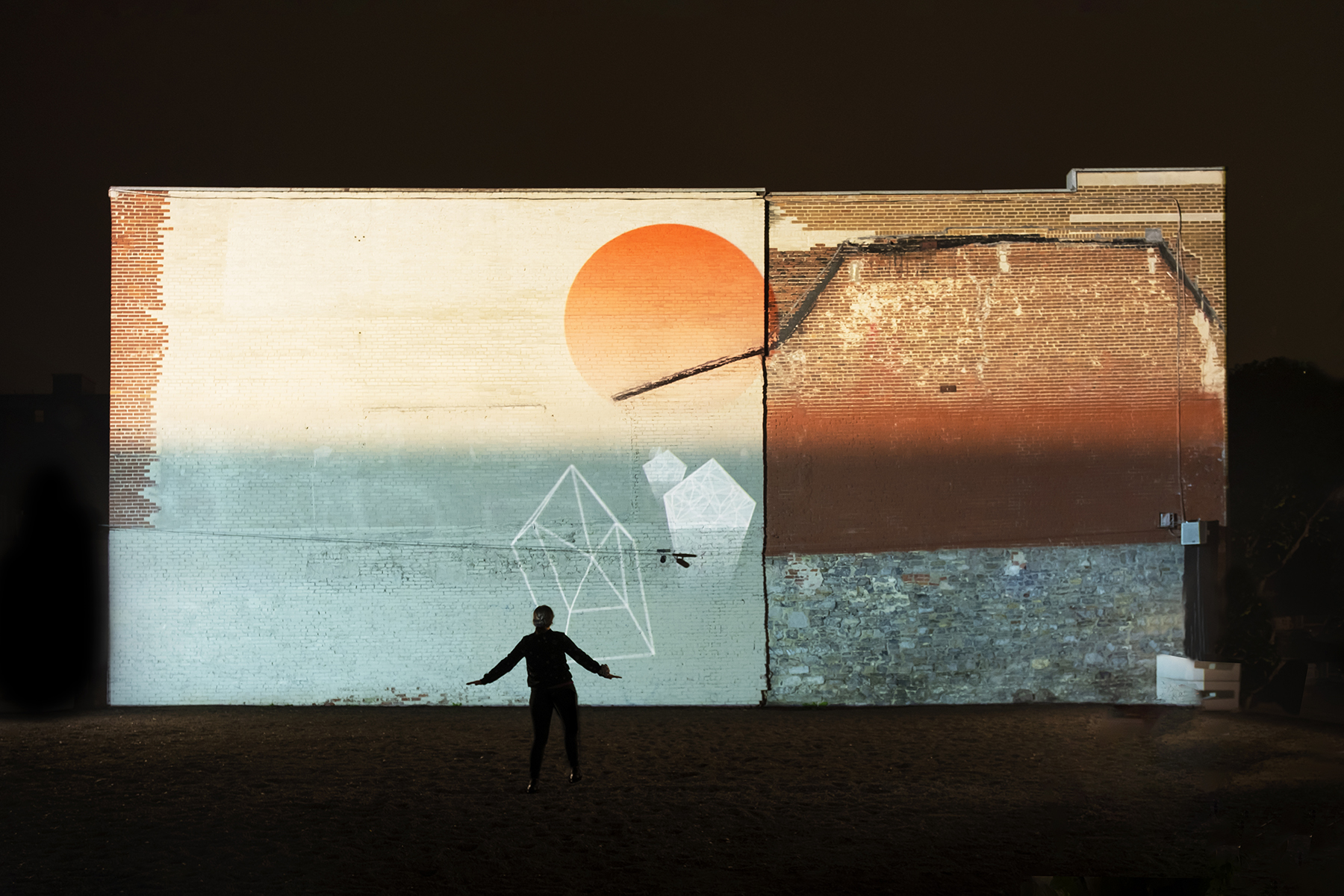 Chapter 3: ICEBERGS
ICEBERGS highlights the impact of our daily decisions on the melting of polar ice caps. Deciding to walk for instance instead of burning fossil fuels can positively impact world temperatures. To illustrate this direct action/consequence link, a body tracking system will detect your physical movement and level of activity as you approach the façade or the monolith.
To participate, move around and strike poses: icebergs will emerge, detach from your body and float away.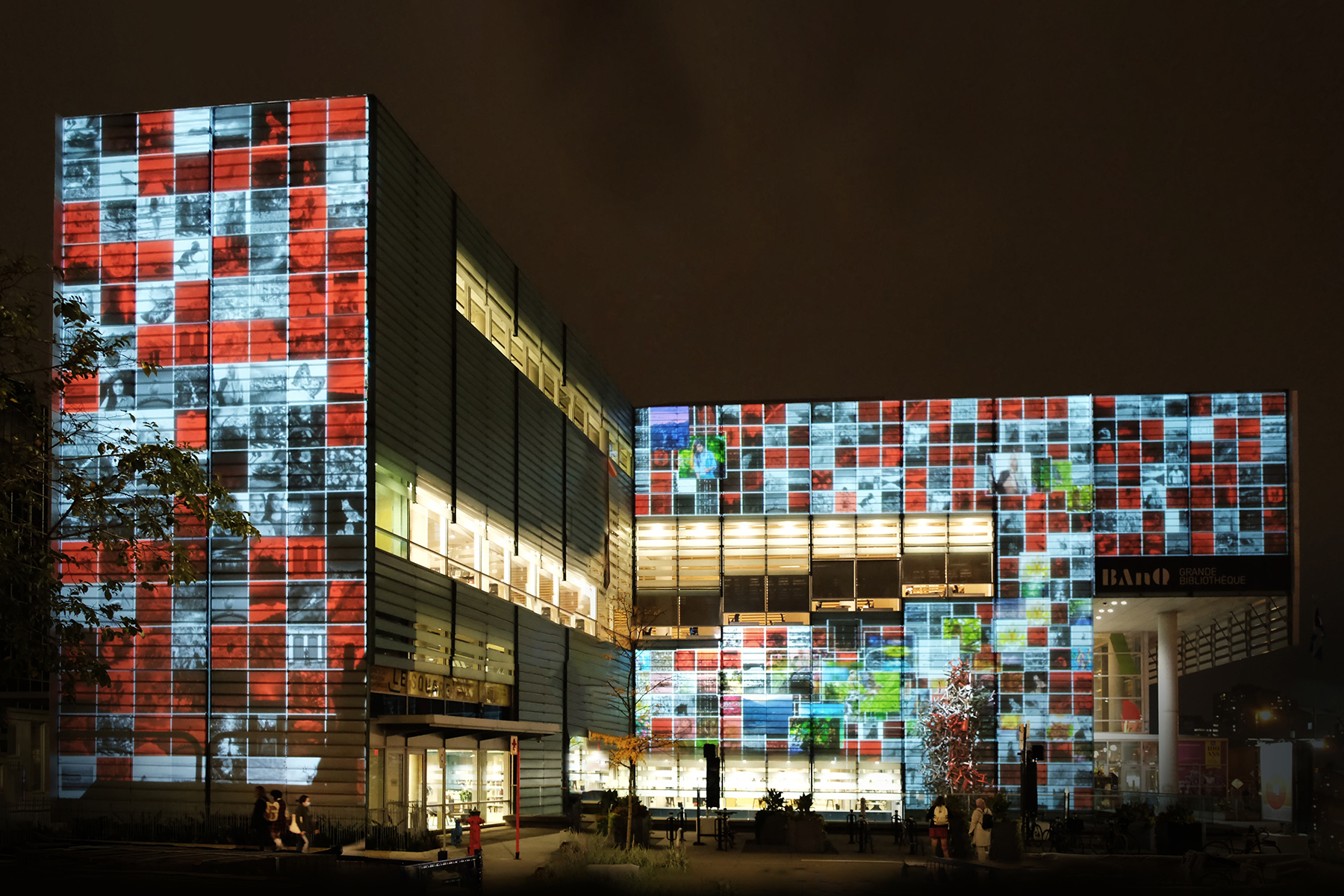 Chapter 4: TELESCOPES
TELESCOPES is a social experiment that addresses our lack of interest in the environmental discussion and our failure to prioritize the topic over others. As you approach the façade or the monolith, you will see a plethora of photographs mixing images relating to the environment with others about mundane or unimportant subjects.
To participate, point your flashlight towards the LED wall and browse through the photographs. The more time you spend pointing to images of a specific subject, the more pictures from that same theme will be loaded onto the display.